Well, I had quite a chase yesterday covering a lot of territory. Left work around 2:15 (later than I had hoped), and drove up to Sauk Centre where the storms had already started near Alex. Went up 71 and saw a great big wall cloud to my northwest, likely near or over Bertha, MN. Called that in and it wrapped in rain and a new one formed near Staples. That one also rain-wrapped and a new one formed just NE of town. I have a picture of that one here: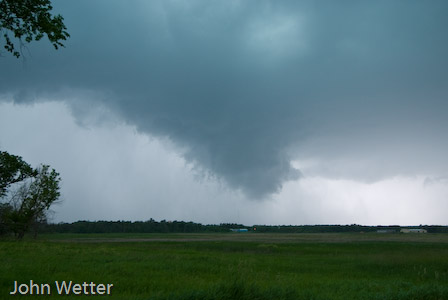 It had a general rotation to it with small vorticies wrapping up around it. Every once in a while there was a small funnel, but none of them ever really made a run for the ground.

I stayed on this storm over to Pillager and let it go. The next storm in the line also had a nice wall cloud which I only got crappy pictures of from about Randall as it was very low contrast with rain between me and it. I believe this went on to produce damage in or near Brainerd, DLH had a TOR on it. It was a nice sculpted wall cloud from what I could tell but had no real rotation to it (like most lowerings today).

From here I bolted south to the stuff going up near Willmar. I was just about to Royalton when the TOR reports came in from Willmar. Ihave to say I wasn't expecting tornadoes that far south this day. Mesoscale stuff might have changed that I didn't notice though while chasing. I dove in front of the line at Clearwater and down to Annandale.

I continued south on county road 6 and saw a great meso wrapping up to my west. You could see the shelf all along the horizon and then in this area, everything wrapped back in to. There was great inflow and it started really spinning, but then got rain wrapped in around it VERY quickly.

From here, I jumped on 12 and following the storm getting trapped in Delano with trees fallen on roads making it hard to get through the detour for highway 12. I stopped in Orono to put a video package together and while it was uploading, caught this lightning pic: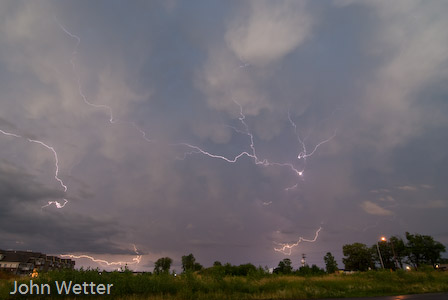 Over-all, a lot of driving, but a satisfying day except for missing the ILL storm. Looks like it would have paid to be later and just gone for that one! Chasers from South Dakota and those leaving late from MN got in on
that action.

The Skywarn nets sounded like they were in full force and working well. Listened to Stearns and Wrightwarn, which of course were both excellent as I'd expect.