June 4, 2005 Missouri Tornadoes
Well, Missouri produced today! I hadn't been all that enthused about this system, and hadn't really planned on chasing. Andy Revering had called me the night before wondering if we'd like to go with them, but I said no because I didn't rally think the system would do anything. But, I think our cats helped us decide to chase… They woke us up at 6:30am and at that time Jamie went and looked at the SPC web page. They had a high risk out for the area I was mildly interested in the night before (NE KS, NW MO, SW IA). So, we decided to go. We left by about 8:30 planning on heading to Des Moines to get data and food at Jamie's Grandparents' place.
We left DSM at about 1:30 headed down I-35. We then went west to St. Joseph, Missouri planning to intercept a storm just crossing the river that produced a nice tornado in Kansas as seen by several other chasers. It was nice having data almost the whole way down. I was without Sprint data only from about 40 miles south of DSM, until about 30 miles into Missouri.
In St. Joseph, we gassed up, got some food and the chase was on! We went North on I-29 to Highway 71. Near highway A, we saw the action area off to our Northwest. We went west on A for a few miles and watched a nice elephant trunk tornado form. We called in this tornado to the Pleasant Hill/Kansas City, MO NWS. At this point the tornado was just a couple miles Northeast of Fillmore, MO. After watching this tornado, we knew we had to get to the North and East again to get back into the action area. We went back north on 71, and then east on 48 to 169.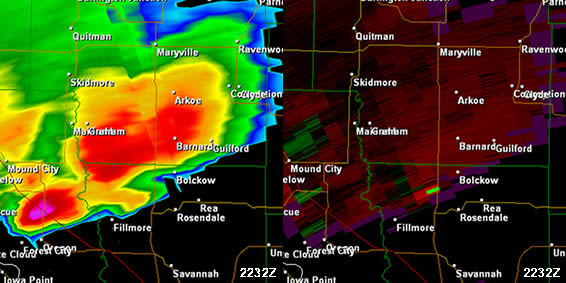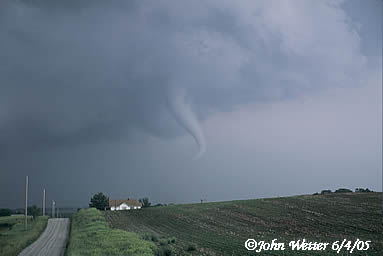 As we were working our way back into the notch and getting North and East, we saw Scott Woelm and Shaun Kelley alongside the road. We stopped and said hi quick in Stanbury and kept going on 169. We were about back in to position and went a little too far and caught up with the core. There was no hail, but a lot of rain. We turned around and just a mile or two back saw the action area really put itself together again.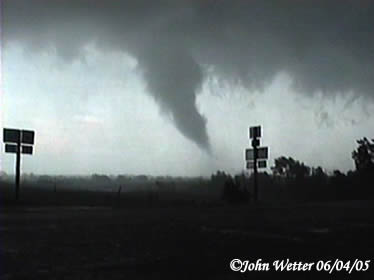 It produced a tornado just to the west side of 169, and crossed it in front of us while we sat on Highway M on the shoulder. As it crossed the road, someone came up over a hill and nearly drove through it! The tornado continued to the Northeast after crossing 169 and we got a lot of video and some stills while it was backlit with light coming in from the East. We knew we had to get moving again though or we'd see all kinds of core, which we didn't like the thought of. As we bailed out to the North again, I called in this new tornado to the NWS.
We headed up 169 again into Grant City and then East on 46. We took our time moving East knowing a tornado was probably still in progress to our Southeast. A few miles down the road, we could see the action area again setting up, but precipitation started to catch us. We waited a bit and then moved forward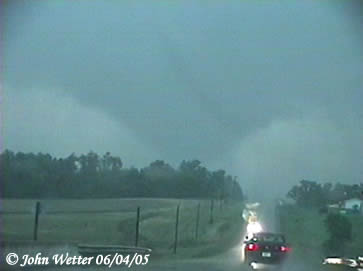 again. As we moved again, we could see the tornado appear through the rain straight ahead of us! We creped up on it and could see a very broad lowering with an obvious tornado in progress. As we got closer, a truck raced past us. There was debris on the road and he rammed right through it! As it worked out, because of this moron, we were able to keep moving as one of the branches caught on his vehicle and opened a path for us.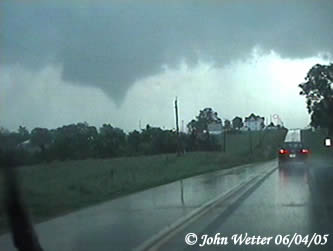 After this debris, we continued to watch the tornado off to the Northeast as it roped out. At this point it was getting later and we all wanted to beat the storm to get home. We got to I-35 and blasted North ahead of it. As we got to I-35, we heard that the DOW's were turning around and heading home as they were no longer seeing tight rotation in the storm. At this time we were also hearing reports of baseball sized hail from our storm so this made it even more urgent that we get around it. As we headed north, we ran into several bouts of very heavy rain which let up as we got to Des Moines. We stopped at a Chilis just North of DSM for some dinner and headed home.
At the end of the day, an awesome trip! 906 miles and three tornadoes! Thanks to Theresa Caspers for a couple updates early on in the day and to Bob Conzemius who helped vector us near the storm. It was a lot of fun to chase with Scott and Shaun Also!
Quick edits of the days footage (17.7 MB WMV format)